News
Philadelphia Pianist JIMMY AMADIE Releases
Live at the Philadelphia Museum of Art
From His First Public Performance Since 1967

 Trio Features Bassist Tony Marino and Drummer Bill Goodwin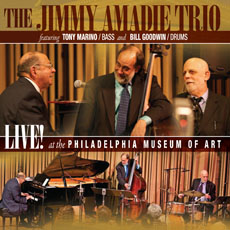 On any given day, the Philadelphia Museum of Art can boast any number of masterpieces by the world's greatest artists, major works by Van Gogh, Renoir, Picasso, or Dalí. But on October 14, 2011, the iconic museum hosted the culmination of a life's work by one more master, if only for a few hours. On that evening, Philly piano great Jimmy Amadie took the stage for the first time in nearly 45 years, finally showing an enraptured audience the results of decades of mental practice.
That landmark performance is captured on Live at the Philadelphia Museum of Art, which liner-notes writer Neil Tesser calls Amadie's "last will and testament." If this album, where Amadie is joined by his long-time rhythm section of bassist Tony Marino and drummer Bill Goodwin, does mark the pianist's last recording, which is likely given his long-running struggles with tendonitis and cancer, it's a fitting monument to an unlikely career. "That was one of the happiest days of my life," Amadie says of the concert. "It was like a rebirth."
Those familiar with his story can tell you that if anyone knows rebirth, it's Jimmy Amadie. His inspiring story was recently told on screen in Matthew Marencik's 30-minute documentary Get Me a Fight, which premiered in 2012 at Villanova University in conjunction with the school's efforts to establish the "Jimmy Amadie Jazz Academy" based on his educational work.
In his early years, Amadie shared the stage with legends like bebop trumpet legend Red Rodney and saxophonist/bandleader Charlie Ventura, accompanied Mel Tormé for three years and was a member of Woody Herman's famous Herd. But he was forced off of the bandstand in 1967 by an extreme form of tendonitis in his hands that derailed his playing career for decades.
For thirty years he turned his attention to education, taking private students and writing two influential instructional books, Harmonic Foundation for Jazz and Popular Music and Jazz Improv: How To Play It and Teach It. But he never stopped "practicing," even if his fingers rarely touched a keyboard. "What you have to know is that I play piano in my head eight to ten hours a day," Amadie says. "The piano doesn't know it, but I'm playing."
This former boxer from North Philadelphia is a natural-born fighter, though, and after several surgeries and plenty of physical therapy he gradually built his strength to the point where he could get through an entire tune. Amadie made his recording debut shortly before his sixtieth birthday.
That first album, Always With Me, was recorded laboriously between 1994 and 1995, with Amadie taking sixteen weeks off between each piece. His first trio album was recorded the same way, with drummer Bill Goodwin and bassist Steve Gilmore painstakingly adding their parts to Amadie's prerecorded piano tracks. On each album since, however, Amadie has entered the studio and recorded the music live with his band-mates, taking months off afterwards for his hands to heal.
After completing his sixth album, The Philadelphia Story, which featured the all-star line-up of Benny Golson, Randy Brecker, and Lew Tabackin, Amadie felt he'd reached a career pinnacle. "After I did that album," he says, "I figured I can't play better than that. I said to God, 'I can die in peace.' Now I take it back."
The portent of those words came clear a few months later when, during a routine surgery, it was discovered that Amadie was afflicted with lung cancer. Now, after finally emerging victorious over one lifelong struggle, he was suddenly faced with another.
"I can't tell you how devastated I was," he says, "because after all these years to feel so good about playing, I just couldn't believe that I could wind up with something else. And I went crazy. I didn't know what to do."
What he did is what he's always done: fight against the pain. He released two more albums, culminating in the trio date Something Special, recorded with Marino and Goodwin. With no special guests to offer relief from playing, Amadie further damaged his pain-wracked hands. He continues to suffer the after-effects of that decision, but insists that the end result is worth it.
He also continues his battle with cancer, which drove him to the decision to make his long-delayed return to live performance. "Cancer's a coward," Amadie has declared on more than one occasion. "He hits you below the belt, he hits you in the back. I'm gonna throw the punches as long as I'm here to throw the punches, but he's not making it easy. He sneaks up on you and he doesn't want to make you sick; cancer's not gonna stop until he kills you. With me, he's having problems."
His ailments took their toll on the night of the concert represented on this, Amadie's ninth album. The pain in his hands, still acute following the recording of the trio record, flared up in especially ugly fashion just before the performance. That was compounded by vision problems caused by medication for his lung cancer which forced Amadie to jettison the new music he'd spent six months writing but now couldn't read, and to substitute flash cards with basic instructions for two sets of standards.
Not that the audience that filled the museum's marble staircase minded. Amadie was welcomed back to the public eye with a rousing and emotional ovation. "I'm not showing off that I can play through pain," Amadie insists. "As far as I'm concerned, once I sit down to play, I'm going to play the best that I can. I'm out there to play because I believe I have something to say. This is what's keeping me alive. I have something better than the pain: passion. Pain can try to stop you but passion overcomes it."
Jimmy Amadie on WHYY
On Thursday, February 2, 2012 at 10:00pm, Jimmy Amadie was the featured artist on WHYY-TV's (Philadelphia - Channel 12) On Canvas series.
Watch the full episode:
The program will also be re-broadcast on Sunday, February 5, 2012 at 4:30pm
Jimmy Amadie's first performance after 46 years... Live at the Philadelphia Museum of Art.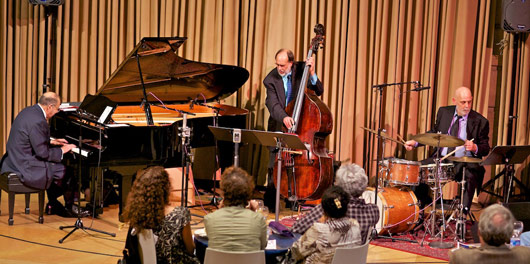 Jimmy Amadie, Tony Merino, and Bill Goodwin at the Philadelphia Museum of Art, October 14, 2011
Watch a video excerpt from this performance.
Philadelphia Icon Jimmy Amadie to Release New Trio CD Titled, Something Special - August 16, 2011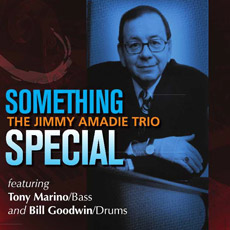 "The beauty of his tone, the clarity of his thought and the contrapuntal intricacy of some of his work are deeply appealing. Moreover, the restrictions on Amadie have enabled him to express ideas with remarkable brevity and eloquence. There isn't a wasted note here."

- Chicago Tribune
As simple and descriptive as it may seem, the title "Happy Man's Bossa Nova" actually speaks volumes. One of two Jimmy Amadie originals contained on the pianist's latest CD, Something Special, the tune is as joyful and celebratory as its name implies. Given the struggles and setbacks Amadie has faced on the path to recording this, his eighth album, it could easily be otherwise. But he is indeed, and indefatigably, a happy man.
"This is the best time of my life," Amadie says. "I'm 74 years old and I'm getting better every day."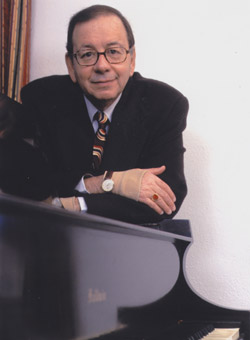 Amadie's story has been recounted often since his miraculous return to the piano bench in the mid-1990s, but it bears repeating. The North Philadelphia native was a promising young pianist in the fifties, accompanying the likes of Mel Torme, Woody Herman and Red Rodney, when his performing career was brought to an abrupt halt by severe tendonitis in both hands. Playing the piano suddenly became sheer agony, and Amadie was reduced to improvising only in his head for the next 35 years.
He managed to maintain an influential presence on jazz through those decades thanks to his own teaching (students included Kurt Rosenwinkel, John Di Martino and famed TV composer Edd Kalehoff) and the publication of two highly-regarded instructional volumes: Harmonic Foundation for Jazz and Popular Music and Jazz Improv: How To Play It and Teach It. His own belated recording debut finally arrived in 1995, thanks to a series of surgeries and his own indomitable fighting spirit, honed as a young man in the boxing ring.
That solo debut, Always With Me, was followed by a series of widely praised sessions on which Amadie was joined by legendary peers like Benny Golson, Phil Woods, Joe Lovano, Randy Brecker, Lee Konitz, and Lew Tabackin. Just as his luck seemed to be improving he was faced with a further setback. Following the 2007 recording of The Philadelphia Story, he was diagnosed with lung cancer; having reached the summit of one mountain, he suddenly found himself at the base of another.
Something Special is, in many ways, a direct result of that diagnosis. Most people are forced to reassess their priorities when confronted with a life-threatening illness; for Amadie, the cancer, which he continues to battle successfully, helped him come to the decision of recording his first trio session.
"I didn't know if I was going to get another chance to play," Amadie explains. "I decided to give it my best shot and play without holding back. I'm glad I did. I can't tell you what I learned."
There is one other trio recording in Amadie's discography: In a Trio Setting (2002), with drummer Bill Goodwin, who returns for Something Special as he has on each of the pianist's recordings, and bassist Steve Gilmore. But for the most part, that earlier album was produced in a very unusual way. Amadie painstakingly recorded his parts over a period of several years, as the pain in his hands allowed, and then turned the finished product over to Goodwin and Gilmore, who added their contributions during one marathon 14-hour session. Amadie was so moved by their creativity, however, that he couldn't keep himself away from the keyboard, spontaneously laying down two more pieces in more traditional fashion.
Something Special, on the other hand, was recorded live from beginning to end, which shows in the spirited interaction of Amadie, Goodwin, and bassist Tony Merino. Nowhere is that cohesion more evident than on the classic "All the Things You Are." The leader begins his solo with a sprightly exploration of the familiar melody, but the trio quickly takes off on a more assertive bent, adding intensity without ever sacrificing beauty.
"If I had the chance to pick any rhythm section in the world, that's the rhythm section I'd pick," Amadie says of his cohorts. "Bill Goodwin is one of the greatest musicians alive. His musicianship is immaculate. And Tony Marino's playing is so robust. He can be so light and so heavy at all different tempos. Those guys make everything I do better."
The range and individuality of Amadie's talents are evident throughout Something Special. The blazing tempo of "Blues for Sweet Lizzy" and the percussive attack of "Get Happy" both bring out a more aggressive side of his playing, one rarely aired due to the stress it places on his hands - a factor that he never lets intrude into the studio. His tenderness emerges on "Fly Me To the Moon" and "Sweet Lorraine," a tribute to pianist Dave McKenna whose achingly beautiful solo introduction becomes a gentle swing showcase upon the entrance of Marino and Goodwin.
"I want to do the kind of tunes that great players did," Amadie says with regards to his choice of repertoire for the session. "You'll hear the difference, because I don't sound like any of them. I've got my own thing."
Ultimately, it's sharing that unique voice that drives Amadie to overcome what seem like insurmountable obstacles. He's now looking forward to his first live performance for almost 50 years, scheduled for this spring at the Philadelphia Museum of Art. And he has new music and new collaborations always in mind.
"I think this is the best playing I've ever done," he says of Something Special. "I keep getting closer. I'll never get there, but I keep getting closer. That's what keeps me alive."
Jimmy Amadie at Philadelphia Museum of Art
*First Public Performance Since 1967*
Friday, October 14, 2011
Sets at 5:45pm & 7:15pm

26th Street and Benjamin Franklin Parkway
Philadelphia, PA 19130

Phone: 215-763-8100
Web: www.philamuseum.org
Jimmy Amadie Trio ˇ Something Special
TP Recordings ˇ Release Date: August 16, 2011